HIKE AND RELAX
AT LAKE KORPIJÄRVI.
We have forests full of life.
More experiences from Southern Savonia
More is better, the old proverb from Mäntyharju says. And it is true when we talk about the holiday at Lake Korpijärvi.
Our holiday resort is located between Mikkeli and Kouvola – about 200 km from Helsinki. We have all advantages of Lakeland Finland: modern holiday cottages, natural peace and silence.
But we can also offer you something more - such as famous Finnish attractions like Repovesi National Park, Art Centre Salmela and family favourites in the Lake Saimaa area.
We have things to do and see – near us and little more far. Whether you want to pick up berries in the forest or enjoy cultural activities.
So just relax and read what we can offer for you.
After that you can book one of our popular holiday cottages or a camping pitch at Lake Korpijärvi.
Welcome to experience that more is better on holiday.
Things to do and see at the moment
Repovesi National Park
Experience and see one of the most popular attractions in Kymenlaakso and Etelä-Savo and one of the most popular national parks in Finland!
Biking in Lake Korpijärvi area
Rent a bicycle or mountain bike and cycle with friends or family around Lake Korpijärvi up to 40 km along the bike trail!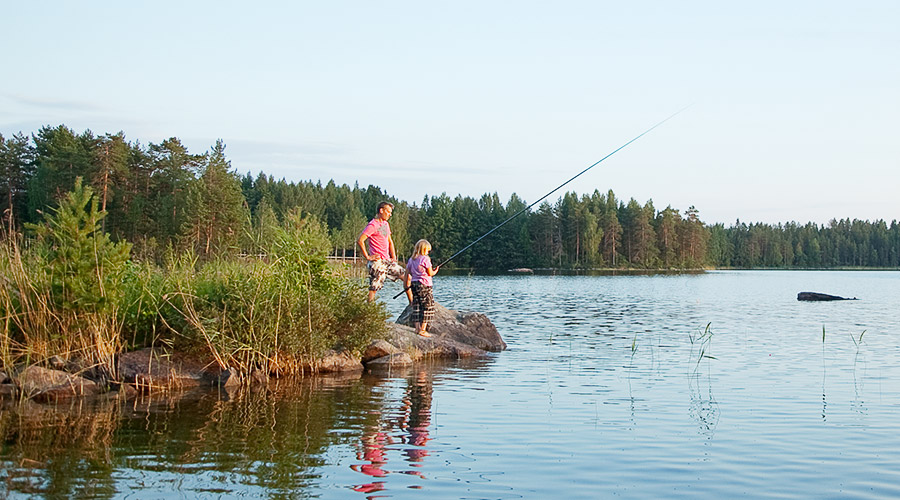 Fishing at Lake Korpijärvi
Borrow or rent fishing equipment and catch perch, pike, whitefish, trout or salmon from Lake Korpijärvi!
Orrainpolku trekking trail
Hike with the whole family on one of the most beautiful hiking trails in the area!
Book an accommodation or find a restaurant
Holiday cottages at Lake Korpijärvi
Book one of our modern holiday cottages by the lakeside - more than 30 peaceful cottages with child-friendly sandy beaches available!
Campsite at Lake Korpijärvi
Book your accommodation at Tommolansalmi Holiday Centre - over 25 electrified pitches by the lake and in the peace of nature!
Restaurants and cafes at Lake Korpijärvi
Enjoy fresh breakfast, local food and homemade pastries - in summer from morning until late at night!
Restaurants and cafes in Mäntyharju
Enjoy local homemade food or exotic delicacies and try homemade pastry at lakeside cafes!
Welcome to Lakeland Finland!
We have forests and villages full of life.
In Mäntyharju. In Lakeland Finland.