BIKING, HIKING, KAYAKING AND SUP BOARDING IN THE COUNTRYSIDE
Lots of different activities in nature
Attractions and activities at Lake Korpijärvi
Activities in the Lake Korpijärvi area are focused on hiking in nature together with family and friends.
There are many sports facilities in the area. Fishing is one of the most popular wildlife activities. Korpijärvi is known as one of the best salmon fish lakes in Finland, but pike, perch, whitefish and other fish species can also be caught in the lake.
There are good gravel and sand roads for cyclists in the area and several bike trails. There are also several geocaches in the area that you can search with the family. A boat trip with a rowing boat or a canoe to Korpisaari Island is also a great option for a family excursion. Especially young people are also excited to learn how to use SUP boards on the lake.
We also have a lot of berries and mushrooms, because there are plenty of uninhabited forest areas in our lake area.
In winter, there are ski tracks in the village of Halmeniemi and the village of Valtola and the ice rink for ice skating can be found at Valtola's former school. In the winter, you can also ski, skate and try a kick sled on the ice if the ice and snow conditions allow it. There is also plenty of fish in the lake during the winter, so there are good fishing opportunities in winter.
Cottage rental companies also offer a lot to do with families with children.
There are playgrounds and swings next to the holiday cottages. In addition, companies can borrow various games for free.
You can also try traditional Finnish sports such as Mölkky game and darts, as well as sledding and Finnish sleigh carousel in winter.
More detailed information on the activities offered by cottage rental companies can be found on the website of each company.
Activities and places to visit
Biking in Lake Korpijärvi area
Take a bike tour with family or friends around the lake and stop for a swim at the beach or look for geocaches!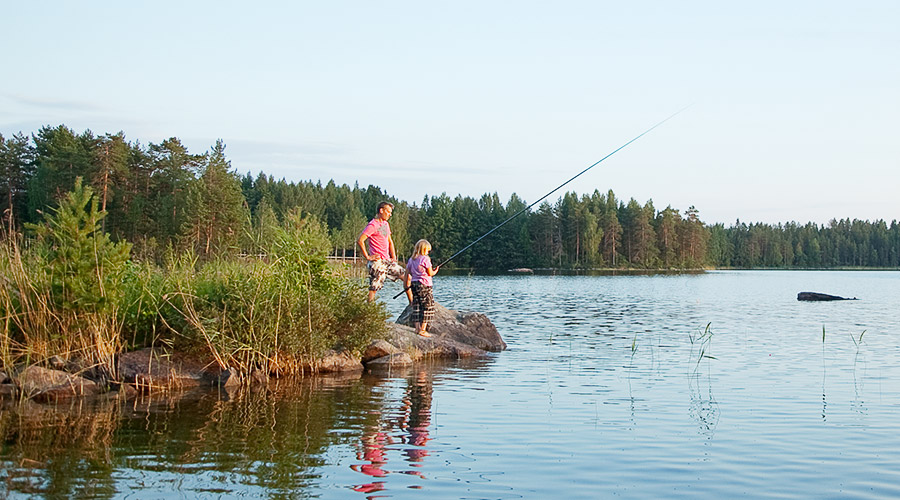 Fishing at Lake Korpijärvi
Fish for perch, pike, whitefish, trout and salmon, go ice fishing or grab a salmon meal from our local salmon pond!
Hiking in Lake Korpijärvi area
Take a small forest trip with children to the nature trail, or explore geocaches in the area, take pictures of the lake area or take a day trip to the nearby island!
Other activities in Lake Korpijärvi area
Rent a beach sauna, boat or canoe, try sup-boarding, enjoy free activities for families with children or rent an activity for a larger group!
Winter activities in Lake Korpijärvi area
Go skiing or ice skating, take a winter hike to the nearby island and enjoy the free winter activities in the area!
Image copyright owners:
Winter image: Copyright @ Photographer Eeva Leskinen.
All other images: Copyright @ Tommolansalmi Holiday Centre / Photographer Päivi Noroaho.
All rights reserved. The images on this website have been edited.